BlythWeb Notes on the Halesworth Airfield War Memorials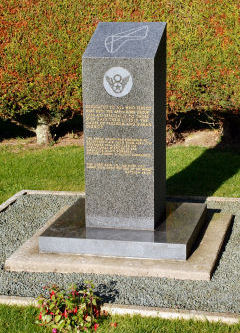 Close to the Halesworth Airfield Museum stand three fine memorials to those American Servicemen who served at Halesworth Airfield during WWII.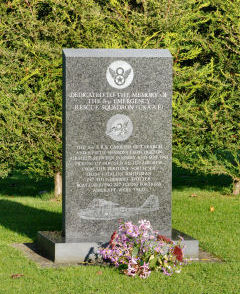 These memorials are thoughtfully sited in beautifully kept bays of grass and gravel, each enclosure hedged and with flagpoles completing the setting. Seats are provided for visitors. Etched into the memorials are depictions of aircraft, squadron badges and the layout of the airfield itself, all skilfully executed.
Operational from 1942 until just after end of the War in 1945, this base was home to brave young men who served the allied forces flying fighters and bombers from the three runways of the airfield.
The memorial to the 56th Fighter Group (Zemke's Wolfpack) [below] carries a plaque commemorating that this Group established a record of combat performance unequalled in US Airforce Fighter history, while the memorial to the 489th Bomb Group records these servicemen who played important parts in the historic events of D-Day in June 1944 [right]. The third memorial is dedicated to the 5th Emergency Rescue Squadron who rescued downed allied aircrew from the North Sea [left].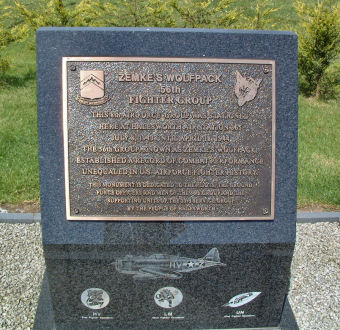 Inscription
The Inscription on the stone reads as follows:

ZEMKE'S WOLFPACK
56th
FIGHTER GROUP
THIS 8th AIR FORCE GROUP WAS STATIONED
HERE AT HALESWORTH AIR STATION 365
JULY 8, 1943 UNTIL APRIL 18, 1944
THE 56th GROUP, KNOWN AS ZEMKE's WOLFPACK,
ESTABLISHED A RECORD OF COMBAT PERFORMANCE
UNEQUALED IN U.S. AIRFORCE FIGHTER HISTORY.

This momument is dedicated to the pilots, the ground
force officers and men of the 56th Group and the
supporting units of the 33rd Service Group
by the people of Halesworth
You can also read our extensive report about the Halesworth Town War Memorial.
Some Favourite Websites For April 2021:
Juliet Penwarden Coaching – Juliet Penwarden Coaching - Horse riding and care
Juliet is an experienced and qualified coach who places a strong emphasis on harmony between horse and rider and takes great pleasure in helping partnerships progress, whatever their goals.
Michael Bullen – Walberswick based watercolourist and Artist
Watercolours are a moment in time with all the depth, light and simplicity of a haiku and just as elusive. Michael's paintings and prints can be viewed at his Studio overlooking The Market Square in Halesworth.
Logs Logs Logs – Family Firm delivering kiln dried logs to Norfolk and Suffolk, including Norwich, Diss and Woodbridge
Logs available in tipper loads and bulk bags for wood burning stoves, open fires and pizza ovens. In addition supplying firewood in bulk bags to Essex, Cambridgeshire, London and beyond.
Janet Talks – Janet is a writer and broadcaster with many years experience
Southwold 'A place to love' has almost 200 pages packed with the stories and histories behind the inscriptions on its colourful beach huts, its many benches and on those small brass plaques on Southwold pier. The stories will both delight and inform.
The Halesworth Pet Store – Specialists in Animal Nutrition and Pet Care
Visit our shop or take advantage of our Free Local Delivery Service! We are experts in animal nutrition, catering for all quantities – from small bags to bulk deliveries amd we are happy to help with all of your requirements