Wangford Village Tour - Introduction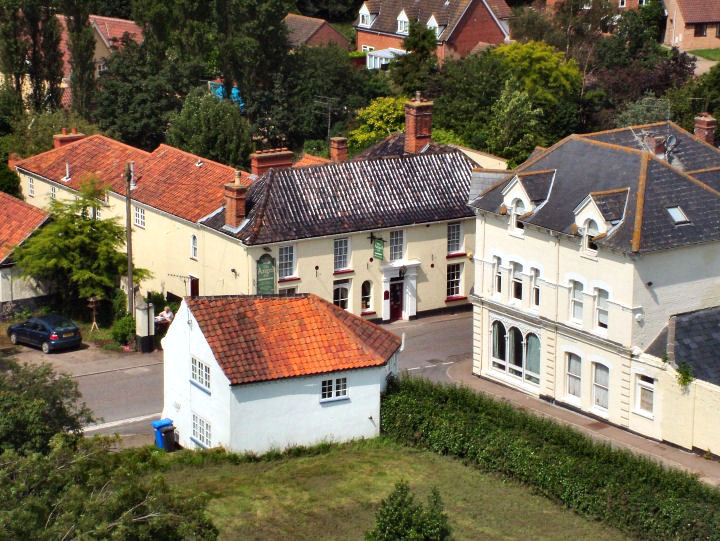 The idea of a tour around the village was conceived at the planning stage of "Wangford Week" in 2004. A variety of local events were held and it was thought that there is much historical interest in the village that could be revealed by a tour. As a result a guide book was produced and sold on the tour which was conducted by local resident Peter Muttitt. Peter has known the village for many years and was able to add additional points of interest from memory along the way. Here we have re-published this tour guide and included Peter's additional points.
We are very grateful to Mr Douglas Howeld who originally wrote the guide. Much was written from Dougie's own memories and recordings and he admits that some of it may not be factually correct. If your memories are revived by reading the guide and you think of, or disagree with, something please let us know. The guide can then be updated.
Photographs have been included along the way in order that a virtual tour can be undertaken from the comfort of your own home. Whichever way you undertake it we hope you enjoy the tour and guide.
The tour starts at the southern end of the village at the A12 bridge over the River Wang. (Approach this by travelling to the bottom end of the High Street).
Some Favourite Websites For April 2021:
Janet Talks – Janet is a writer and broadcaster with many years experience
Southwold 'A place to love' has almost 200 pages packed with the stories and histories behind the inscriptions on its colourful beach huts, its many benches and on those small brass plaques on Southwold pier. The stories will both delight and inform.
Michael Bullen – Walberswick based watercolourist and Artist
Watercolours are a moment in time with all the depth, light and simplicity of a haiku and just as elusive. Michael's paintings and prints can be viewed at his Studio overlooking The Market Square in Halesworth.
Logs Logs Logs – Family Firm delivering kiln dried logs to Norfolk and Suffolk, including Norwich, Diss and Woodbridge
Logs available in tipper loads and bulk bags for wood burning stoves, open fires and pizza ovens. In addition supplying firewood in bulk bags to Essex, Cambridgeshire, London and beyond.
Juliet Penwarden Coaching – Juliet Penwarden Coaching - Horse riding and care
Juliet is an experienced and qualified coach who places a strong emphasis on harmony between horse and rider and takes great pleasure in helping partnerships progress, whatever their goals.
The Halesworth Pet Store – Specialists in Animal Nutrition and Pet Care
Visit our shop or take advantage of our Free Local Delivery Service! We are experts in animal nutrition, catering for all quantities – from small bags to bulk deliveries amd we are happy to help with all of your requirements